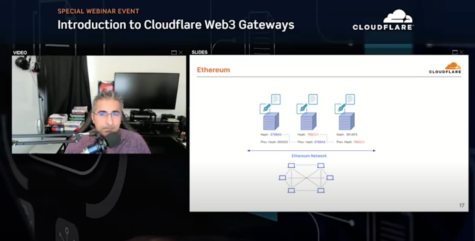 If you missed the Cloudflare Webinar on March 9th where I presented on IPFS, Ethereum, and Cloudflare Web3 Gateways, you can now watch the recording by registering here or simply watch on YouTube here, I've also embedded the video below.
Learn about Cloudflare's vision and products around Web3. By the end of the webinar, you'll understand the motivation behind Web3, some of the underlying technologies and how they're being used, and how Cloudflare Web3 Gateways work and their respective benefits.
Download the Cloudflare IPFS Gateway Whitepaper here to learn more about IPFS and how Cloudflare IPFS Gateway helps bridge between Web 2.0 and Web3 as well as the many other benefits it provides.
Checkout my prior posts on Web3 and Cloudflare:
Web3, DApps, and Cloudflare IPFS and Ethereum Gateways
The Evolution of Blockchain from Crypto to DApps
Follow me on Twitter: @Humair_Ahmed