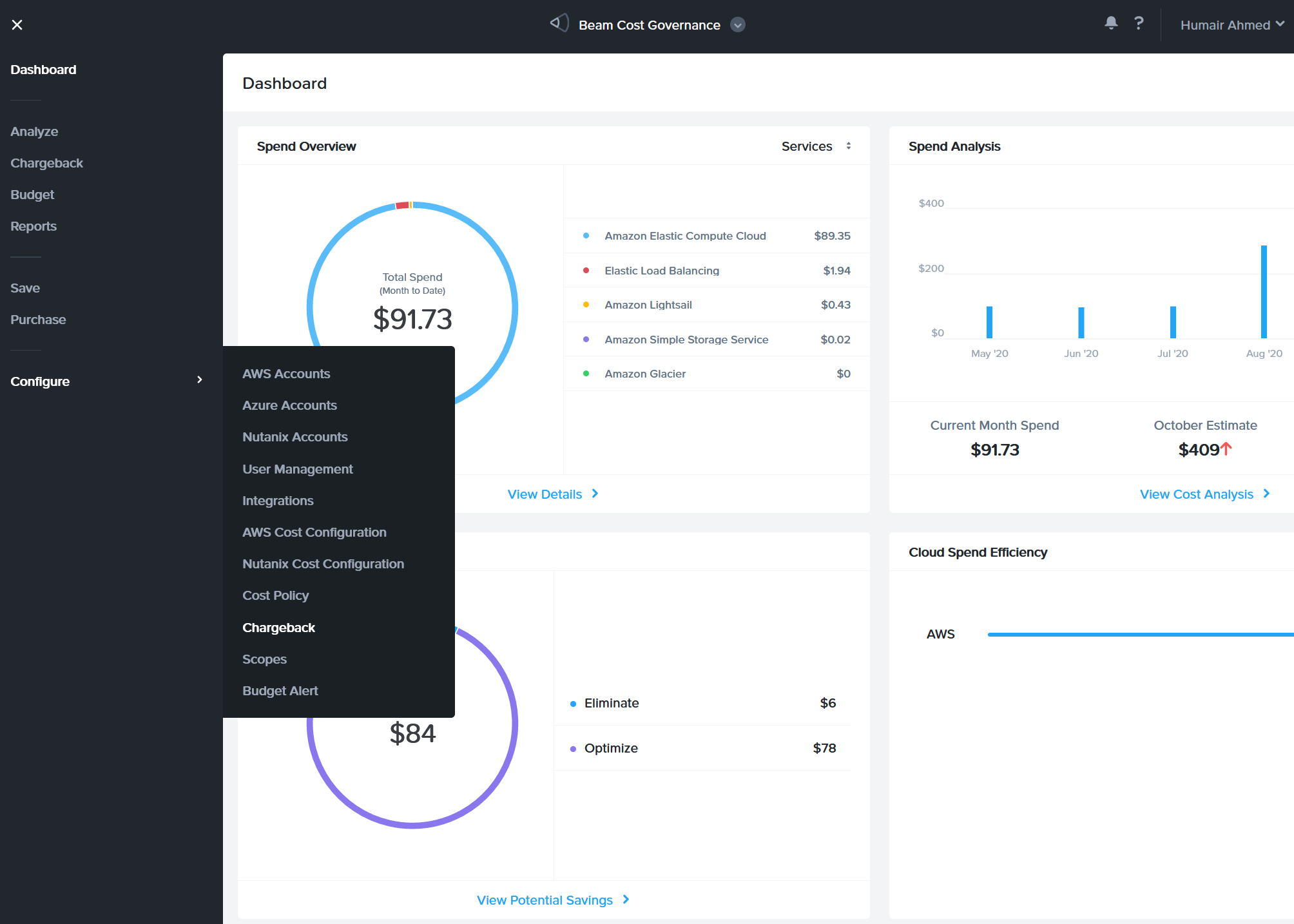 My prior post on Nutanix Beam, Optimize Cost Across Public and Private Clouds with Nutanix Beam, provided a brief intro and described some of the basic functionality of Beam and how it can be used to define a cost control strategy for both multicloud and hybrid cloud scenarios. In this post, I build on top of the prior post and show an example of how customers can leverage capabilities in Beam to track cloud spend across teams, business units, and even across multiple clouds.
In a nutshell Beam allow customers to:
access granular visibility into where budgets are being consumed and by whom
allocate costs to appropriate business/units and cost centers
track cloud spend against allocated budgets
receive alerts when budgets are exceeded
To keep this post brief, I'll focus on cost allocation and chargeback. Although multiple cloud providers can be utilized similar to what was shown in my prior post, for simplicity, in this example, I just use multiple AWS accounts which I have already configured. Below, you can see customers can configure chargeback by navigating to the main menu on the top left and selecting Configure->Chargeback.
From here, customers can create multiple Business Units and Cost Centers. These entities can actually span across multiple cloud providers enabling a centralized tracking of spend across customers' multicloud environments. Below, I have created multiple business units. For purposes of this blog, I'm going to focus on the Engineering business unit. Here, I have created two cost centers under the Engineering business unit: Dev and Test.
Nutanix Beam uses Cost Allocation Tags that customers configure in AWS. Customers can configure and apply Tags in AWS with respective key-value pairs and activate these as cost allocation tags. In this example, I used the tag, Team, and provided values of Dev or Test depending on where that cost should be allocated. The EC2 instances in AWS used by the Dev team have a value of Dev for the Team tag while EC2 instances used by the Test team have a value of Test for the Team tag. Below, you can see, in AWS I have activated the tag, Team, as a cost allocation tag. Note, I have kept the tag naming simplified for purposes of demonstration, however, for identification or automation purposes in larger environments, you may want to use a more detailed key-value taxonomy.
Cost allocation tags have their respective resource's cost exported to the cost & usage report that is pulled by Nutanix Beam; this cost & usage report is setup in AWS when the cloud provider accounts are initially configured in Beam. Below, you can see the cost & usage report I setup in AWS that is utilized by Nutanix Beam. This report is stored in an AWS S3 bucket I configured which Nutanix Beam pulls the report from.
Within Nutanix Beam, business units are entities that mimic company/organizational structure; business units can contain multiple cost centers, and spend can be tracked across multiple clouds. In Beam, below, I use the respective tag key-value pairs to correctly match which cost center and respective business unit the spend should be allocated to; an entire cloud account can also be allocated to a cost center. Below is the configuration for my Test cost center within the Engineering business unit. You can see I am leveraging the same Team tag I created and activated as a cost allocation tag in AWS.
Below, after a few days of the new tag data being included in the reports, I'm analyzing the data for the past 7 days and filtering on the Team tag. You can see the spend is broken out by Dev and Test cost centers; there is also still some unallocated costs. By far, it can be seen Dev is where the majority of the costs are originating.
Switching to the table view provides a detailed breakdown by cost center and day.
Additional views such as the Pie view shown below are also available.
A Budget allows customers to centralize the budget at different levels like business unit, cost center, or scope. I have not discussed scopes prior, but you can think of scopes as a logical group of cloud resources defined within Beam. Budgets also help ensure that consumption is within the defined budget. Below I navigate to the main menu on the top left and select Budget.
There are several options when creating budgets which I will cover in a f
uture post, however, to initiate the process, customer can simply click the
Create Budget
button.
From here an option can be selected to start defining the budget and complete the respective workflow.
In this post on Nutanix Beam, I covered some of the specifics around tracking cloud spend and chargeback and demonstrated how customers can take advantage of these capabilities in their multicloud environments. In future posts, I'll cover some additional capabilities and discuss specific use cases.
Follow me on Twitter: @Humair_Ahmed