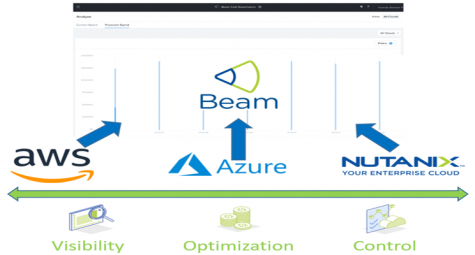 Nutanix Beam is a software as a service (SaaS) solution that provides cost spend visibility and optimization across multicloud environments and on-prem. Discussing with customers and playing around with Nutanix Beam for the past several weeks, I've been pretty impressed. I can see why many customers have standardized on Beam for their cost control strategy for both multicloud and hybrid cloud scenarios. In this post, I briefly give a quick intro to Nutanix Beam and some of the functionality. For additional info and a free trial, you can check out the Nutanix Beam product page here. Also, check back on my LinkedIn articles or humairahmed.com for additional posts.
Many customers are incorporating both private and public clouds as part of their ongoing IT strategies. Two important trends Gartner has pointed to taking place through 2024 and beyond are: 1.) Cost optimization will drive cloud adoption. 2.) Multicloud will reduce vendor lock-in. Further, IDC predicts that by 2021, over 90% of enterprise IT infrastructures worldwide will be a mix of on-premises/dedicated private clouds, multiple public clouds, and legacy platforms. Clearly, the need to manage and optimize cost across on-prem and cloud will also become more critical.
Nutanix Beam takes into account the above trends for cost optimization for multi-cloud/hybrid cloud by providing cloud cost visibility and optimization across the most popular public cloud providers like AWS and Azure as well as on-prem Nutanix private cloud environments.
Below, you can see from the Beam GUI, customers can select the view they would like to see specific to a public/private cloud environment or a view across all clouds.
In the below screenshot, you can see I focus in on the AWS Overview view. This displays all the cost data analysis and cost optimization options for all my AWS accounts including all AWS master accounts and associated linked accounts. Note, you can also select a specific master or linked account to see details associated with just a specific subset of accounts or just a specific individual account.
Similarly, I can look at the cost analysis / optimization options for my Azure accounts as shown below.
What I really love about this product is that it also works with on-prem Nutanix private cloud environments; this is perfect for hybrid cloud scenarios and a huge differentiator from other cost governance tools. Further, it allows customers to easily determine the cost of running specific workloads on-prem vs cloud, so customers can make informed decisions on workload placement based on hard data – no more second guessing and surprise bills!
Below you can see I have switched to the Nutanix on-prem view. Here you can see on the dashboard, Beam gives an overview and spend analysis breakdown overs a selected time frame. It also goes beyond spend analysis to also provide capacity analysis and recommendations in terms of additional purchases based on current capacity and usage.
Below, I review the projected spend broken out by Nutanix cluster.
Additionally, users can also get a breakdown of total cost of ownership (TCO) and resource utilization per cluster as shown below.
Beam also makes it easy to see cost analysis and both current and projected spend across all private and public cloud environments. Below, I display the projected spend across all cloud environments.
Below I go back to my AWS Overview dashboard for all my AWS accounts. Within the Save widget, I click View Potential Savings. Here I can see my spend efficiency, recommendations for savings, as well as optimization opportunities.
Under the Optimization Opportunities widget above, you can see Beam can be used to easily perform cloud rightsizing. Below the cloud rightsizing description is provided by hovering the mouse over the respective information icon. Beam cloud rightsizing takes into account auditing data across all resources to find consistently underutilized resources that can be optimized for savings.
As an example of how customers can easily take action and save from within Beam, here, I click the Save $3 – Eliminate 1 Unused Elastic IP link within the Top Save Recommendations widget.
Above, I can see the unused elastic IP being referenced and can download/share a report or from the Actions button create a ServiceNow Ticket. The Nutanix Beam Plugin integrates a customer's ServiceNow instance with his/her respective Beam account to enable quick creation of change requests for Beam's cost optimization recommendations. The respective Beam account will also receive updates on any changes made to the change requests created through this integration.
Another useful Nutanix Beam feature is the daily e-mail summaries outlining expenses and optimization opportunities received by respective users. Below is one such e-mail I received this morning.
Nutanix Beam offers a host of additional features including budget alerts, allocating and analyzing cost by business unit and cost center consuming resources, chargeback, setting custom cost policies and scopes, and cost configuration taking into account AWS Savings Plans and Reserved Instances. The latest update just rolled out also now supports both absolute cost and amortized cost for the cost logic under Cost Configuration. Customers can now easily have a parent account that has a set reserved instance which is consumed by different business units/cost centers and thus reported as such.
In this post I covered some of the basics, features, and advantages of using Nutanix Beam for Cost Governance for both multi-cloud and hybrid cloud scenarios. In future posts, I'll go into more depth on how customers leverage advanced capabilities in Nutanix Beam.