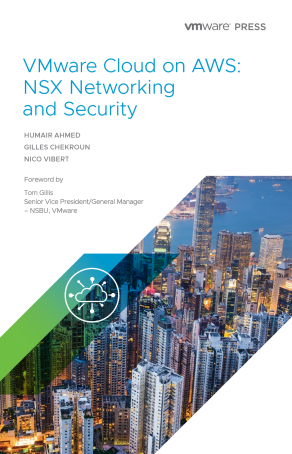 Check out my latest book co-authored with my colleagues Gilles Chekroun and Nico Vibert on VMware NSX networking and security in VMware Cloud on AWS. Thank you Tom Gillis, Senior Vice President/General Manager, Networking and Security Business Unit for writing the foreword and providing some great insight.
Download the eBook for Free
I've been very fortunate to have the opportunity to publish my second VMware Press book. My first book was VMware NSX Multi-site Solutions and Cross-vCenter NSX Design: Day 1 Guide. This book was focused very much on NSX on prem and across multiple sites. In my latest book with Gilles and Nico, the focus was on NSX networking and security in the cloud and cloud/hybrid cloud solutions.
You can download the free ebook here:
VMware Press – VMware Cloud on AWS: NSX Networking and Security.
In this book you'll learn how VMware Cloud on AWS with NSX networking and security provides a robust cloud/hybrid cloud solution. With VMware Cloud on AWS extending or moving to the cloud is no longer a daunting task. In this book, we discuss use cases and solutions while also providing a detailed walkthrough of the NSX networking and security capabilities in VMware Cloud on AWS.